Sumela Monastery
Sumela Monastery one of amazing place in district Maçka , Trabzon cty. İt look amazing whit blacksea region natural beauty.It was built on Zigana mountain about 300 meters high.Domestic people call that its name Virgin Mary Monastery and its original name in history, Sumela name come from local Greek dialect. There are some myth about monastery and according to miyth, monastery have completed in 395 A.D.
Myth of Monastery
That monastery very important for Christians According to myth, very important icon have saved in Sumela monastery.Currently Christians call that icon '' Panagia Soumela'' icon. That icon have drawed by Saint Luka and he was one of the Bibie's author.When Saint Luke died his student took icon and went to Athenia.Christians have accepted that icon holy so they were built a temple near Thebes.
While young priest Basil praying, he has seen Virgin Mary, Virgin Mary said that, took your nephew Sotirichos and prepared to be monastic, would help yours life and went to Thebes temple.When they went to near Panagia Soumela icon they have started to pray and angels started to chant in temple. They have heard a voice from icon and said that would help and direct them whole life.Than two angel took icon and flew to Mela Mountain.Virgin Mary direct them and they found icon.Virgin Mary helped them and they started to live in Mela mountain and built monastery in there.Panagia Soumela icon was very important for Bzantium emperor's and they prepared coronations in monastery and many Chiristians visted there, Many priest have studied in monastery.
How Can Visit Sumela Monastery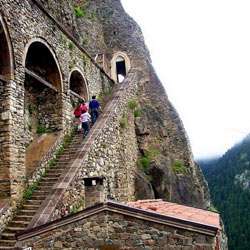 Monastery is located in Altındere Valley , district Maçke , Trabzon city.I offer that visit there wiht tourism agency but if do not want this firstly must come Trabzon whit bus or plane.Than come to Maçka district, it not much far away Trabzon. there is bus for to come Monastery.When come to Monastery must be ready to climb stairs. Summer season Monastery open 9 am to 6 pm and entrance is 15 Turkish Lira.There is many comfortable hotels in Maçka and must taste traditional meals in there.
I hope you might like ,,,,
Share this